Groundcover Layer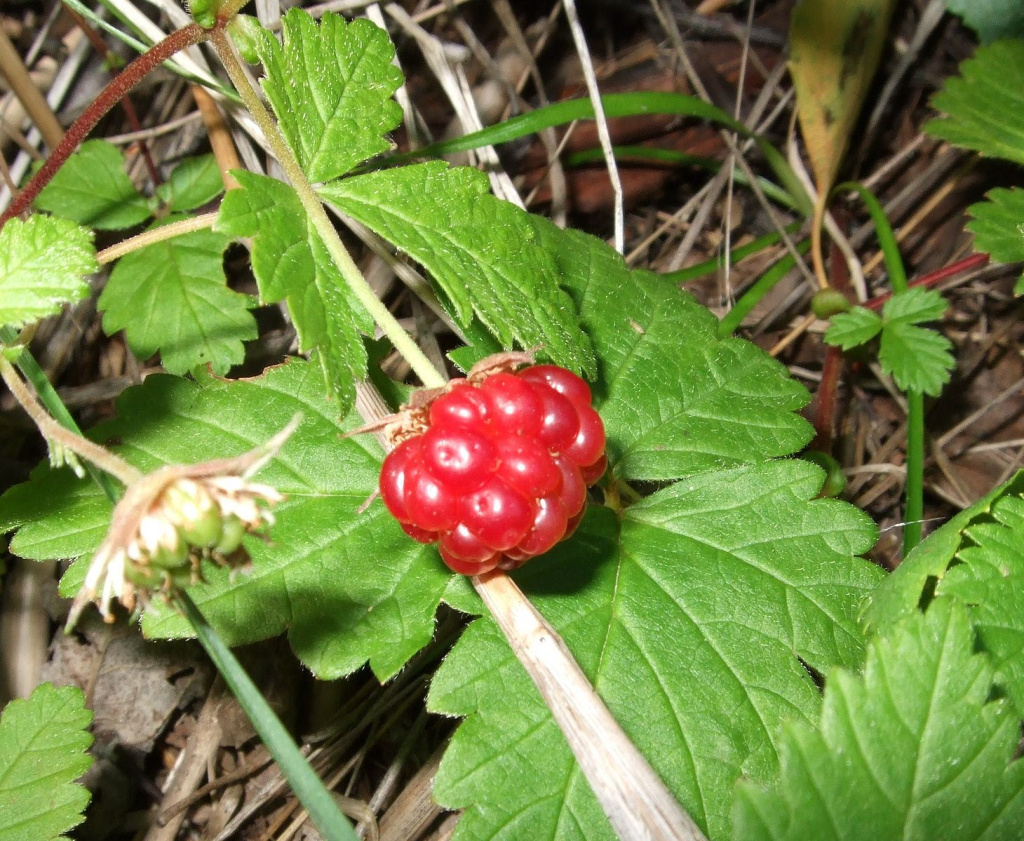 Arctic Raspberry, Rubus Arcticus
Podcast: Play in new window | Download
Well, ain't that just the cutest lil' raspberry you ever did see? But don't think this little feller's feeble or frost tender—these things can grow in places far too cold for most raspberries—and thrive there!
GROUNDCOVER LAYER
Cold hardiness zones: 2 – 8 (can withstand cold to -50° F, or -45° C)
Soil PH: 5.0-7.01
Watering needs: Medium. It prefers more, but tolerates drought.
Blooming Season: Late-spring
Harvest season: From mid summer to mid fall.
Fruiting age: 1-2 years
Pollination for Fruit: Two arctic raspberry plants of different varieties are needed to produce fruit. These can be clones of two different varieties, plants grown from two different seeds, or any combination of the two.
Size at maturity: 6 – 10 inches tall, (15 – 25 cm), 12 inches wide (30 cm)
Sun needs: Full sun, and doesn't like shade.
Preferred habitat: A boggy, swampy grassland or wet woodland.
Growth rate (vigor): Slow
Reproductive rate (and methods): High, mostly by root rhizomes.
Average life span: 5 – 6 years.i
Plant family: Rosaceae
Notes:
Well named, the arctic strawberry (AKA nagoonberry) is a cold, mountainside plant, and though it is water-loving, it does fine in drought once it's had good time to establish. Depending on your particular climate, it may be the hardiest raspberry you can grow. But instead of sprawling upward like other raspberries and cane fruits, arctic raspberry stays low to the ground, seeking water and sunlight. And since they prefer full sun, water, and cold winters, they're likely to grow their best crop in areas where these three are abundant.
And how is it for flavor? According to Emily Mount, in Alaska magazine, "The explosion of flavor lit up my mouth like tangy fireworks—the sweetness of strawberry, the juicy explosion of citrus, the texture of raspberry, the punch of cranberry. I became an instant devotee to the cult of the nagoonberry."
There's appears to be no question out there but that arctic raspberries taste fantastic. You can prepare, eat, or cook them in any way you would prepare or eat traditional raspberries. Popular are jams, pies, ice cream, muffins, pancakes, syrups, sauces, leathers, candy, as well as chipotles, meat rubs, and a host of other recipes.
The leaves are also edible when used for tea,ii and any recipe that calls for raspberry leaves can use the leaves of the arctic raspberry.
1https://era.library.ualberta.ca/items/899b76cd-3b3e-40ef-972e-f4893f342faa/view/c1494cfd-e43b-4e08-be2e-c88488f6ec19/Rubus-20arcticus.pdf
ihttps://www.yumpu.com/en/document/read/27691783/he-arctic-bramble-rubus-arcticus-l-the-most-baltic-forestry
iihttps://homeguides.sfgate.com/raspberry-leaves-edible-93470.html