Understory Layer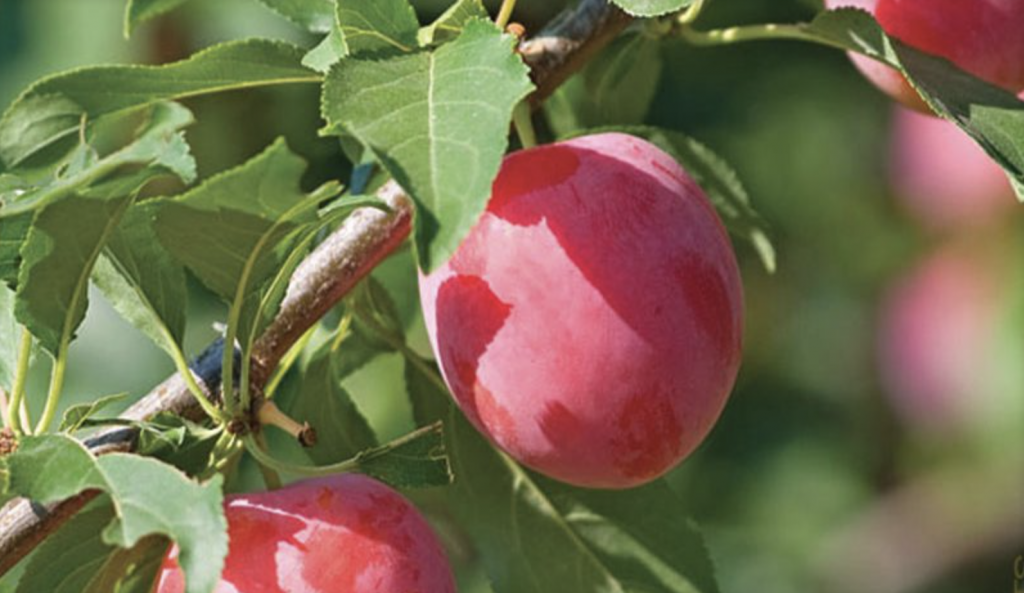 American Plum, Prunus Americana
Podcast: Play in new window | Download
Also known as wild plum, this prolific dainty can produce from 100 – 150 pounds of fruit per year! And it just might be the most cold hardy, PH tolerant of all the food-worthy plum tree species. And yes, they're even eligible for making prunes… or Christmas plum pudding… or any other plum recipe, for that matter.
UNDERSTORY LAYER
Cold hardiness zones: 3 – 8 (can withstand cold to -40° F)i
Soil PH: 5.5 to 7.5ii
Watering needs: Medium – low. Drought and dry-soil tolerant once established.
Blooming Season: Very early spring
Harvest season: Late summer to early falliii
Fruiting age: 3 years.iv
Average mature yield: 100 – 150 lbs of fruit per year.v
Pollination for Fruit: Only one American plum is needed to bare fruit.vi Though it does happen occasionally, American plum doesn't usually cross pollinate with other plum species.vii
Size at maturity: 15 – 25 feet tall and wide (4.5 – 7.5 meters), though sometimes as high as 35 feet (10.5 meters).viii
Sun needs: Full sun to part shade. It gets much more blossoms and fruit in full sun.ix
Preferred habitat: The American plum enjoys a good young woodland, but also grows well in areas of transition between woodland and other biomes, such as riverbanks, shrublands, swamps, and lake boarders.x
Growth rate (vigor): Moderate to fast, ≈ 2 feet per year (.6 meters),xi though much faster growth has been recorded.xii
Natural reproductive rate (and methods): High, mostly by root sprouts, but some by seeds.
Propagation method: Separating root seedlings (digging up suckers to replant elsewhere), seeds sown in fall or after cold stratification. Sometimes dormant hardwood, softwood, or semi-hardwood cuttings can be rooted.xiii Root cuttings can sometimes yield new trees.
Average life span: 15 – 30 years.xiv
Plant family: Rosaceae
Notes:
Sometimes called wild plum, the American plum attracts birds, and has very showy white blossoms in the early spring. They are sometimes used as rootstocks for more domestic species' of plum. Their short lives are made up for in their tendency to spread by root sprouts—thus they could be an effective trail-blazer species for establishing a food forest.
For any of you food foresters interested in having a Christmas garden, the American plum is tolerant of black walnut and part shade, so the two can grow somewhat close together, as long as there is enough room for the plum to get a little sun each day.
It's fruits are smaller than many plums, about 1 inch wide, but they make up for it in the sheer quantity of fruits on the mature tree.
The American plum fruit is succulent, juicy, sweet, and tart, with a thick skin, and is eaten fresh, cooked, or dried. Cooked seems to be the favorite of most American plum growers. It's thick skin does qualify it for drying to make prunes.xv They are best known for making good jams, jellies, and fruit leather,xvi but can be used in any recipe calling for plums. Just keep in mind the size difference, so you increase the requested quantity by 50-100% (Example: where the recipe calls for 20 plums, you may want to use 30 or 40). If the ingredients are listed by volume or weight, this won't be necessary. Foods that could use American plums include: Christmas plum pudding, plum cobbler, spiced plum custard cake, Asian plum sauce, plum chutney, plum muffins, plum barbecue sauce, plum chicken, plum ice-cream, and any other plum recipe.xvii
Cautions:
Watch out when you harvest, because unlike other plum species, American plums have thorns!
ihttps://www.missouribotanicalgarden.org/PlantFinder/PlantFinderDetails.aspx?taxonid=286355
iihttps://www.ag.ndsu.edu/trees/handbook/th-3-39.pdf
iiihttps://www.nrcs.usda.gov/Internet/FSE_PLANTMATERIALS/publications/mopmcpg6751.pdf
ivhttp://www.twisted-tree.net/growing-american-plums
vhttps://www.nrcs.usda.gov/Internet/FSE_PLANTMATERIALS/publications/mopmcpg6751.pdf
vihttp://ediblelandscapingnursery.com/buyPlants.php?func=view&id=9
viihttps://www.fs.fed.us/database/feis/plants/shrub/pruame/all.html
viiihttps://homeguides.sfgate.com/fast-american-plum-grow-69388.html
ixhttps://www.gardenia.net/plant/prunus-americana
xhttps://www.fs.fed.us/database/feis/plants/shrub/pruame/all.html
xihttps://homeguides.sfgate.com/fast-american-plum-grow-69388.html
xiihttp://www.twisted-tree.net/growing-american-plums
xiiihttps://www.wildflower.org/plants/result.php?id_plant=pram
xivhttps://trees.umn.edu/american-plum-prunus-americana-0, https://www.fs.fed.us/database/feis/plants/shrub/pruame/all.html
xvhttps://plants.ces.ncsu.edu/plants/prunus-americana/
xvihttp://www.hardyfruittrees.ca/catalog/plum-tree/american-plum-prunus-americana-zone-2